About Us
Plymouth Express is a Pizza takeaway in Plymouth. Why don't you try our Donner Kebab Meal or Dockyard Special?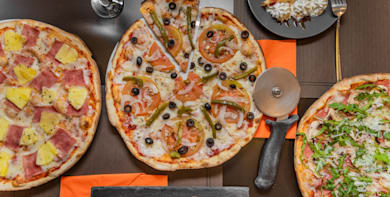 Reviews
229 reviews
Matheus
"Amazing pizza....loveeeee it"
01/06/2021
Trudes
"super tasty best in city great service :}"
30/05/2021
simon
"Food excellent and hot!! delivery driver always friendly and pleasant A++++"
29/05/2021
sean
"Really really good pizzas . Thank you 😊"
27/05/2021
Menu
Red Bull Red Bull (250ml)
£1.80
Red Bull Sugar Free Red Bull (250ml)
£1.80
Pizza Deal 1
12" Medium Margherita
Garlic bread (4 Pieces)
1 x Chicken burger
1 x Half pounder cheeseburger
2 x Chips
1.5L Bottle of soft drink
£20.00
Pizza Deal 2
Any 12" medium pizza
2 x Doner or chicken doner kebab
1 x Chicken burger
1 x Quarter pounder cheeseburger
2 x Chips
1 x Spicy potatoes
1.5L Bottle of soft drink
£29.00
Pizza Offer
Any 2 x 12" medium pizzas
Half pounder cheeseburger
Large spicy potatoes
1.5L Bottle of soft drink
£26.00
Biggest Deal Ever
Any 2 x 12" medium pizzas
Any 1 x 09" small pizza
Large spicy potatoes
1.5L Bottle of soft drink
£26.00
Combo 1
Quarter pounder cheeseburger with chips & a can of soft drink
£5.50
Combo 2
Half pounder cheeseburger with chips & a can of soft drink
£6.00
Combo 3
Chicken fillet burger with chips & a can of soft drink
£6.00
Combo 4
3 Pieces of chicken with chips & a can of soft drink
£6.70
Margherita Small
Tomato sauce topped with cheese
£6.50
Margherita Medium
Tomato sauce topped with cheese
£8.00
Margherita Large
Tomato sauce topped with cheese
£11.00
Hawaiian Small
Ham & pineapple
£7.50
Hawaiian Medium
Ham & pineapple
£10.50
Hawaiian Large
Ham & pineapple
£15.00
Vegetarian Small
Tomato, onion, mushrooms, sweetcorn & peppers
£7.50
Vegetarian Medium
Tomato, onion, mushrooms, sweetcorn & peppers
£10.50
Vegetarian Large
Tomato, onion, mushrooms, sweetcorn & peppers
£15.00
New York Special Small
Ham, mushrooms, pineapple, onions & peppers
£7.50
New York Special Medium
Ham, mushrooms, pineapple, onions & peppers
£10.50
New York Special Large
Ham, mushrooms, pineapple, onions & peppers
£15.00
Express Road Runner Small
Pepperoni, salami & sausage
£7.50
Express Road Runner Medium
Pepperoni, salami & sausage
£10.50
Express Road Runner Large
Pepperoni, salami & sausage
£15.00
Dockyard Special Small
Spicy beef, pepperoni, mushrooms & onions
£7.50
Dockyard Special Medium
Spicy beef, pepperoni, mushrooms & onions
£10.50
Dockyard Special Large
Spicy beef, pepperoni, mushrooms & onions
£15.00
BBQ Chicken Small
Tandoori chicken, sweetcorn, onions & BBQ sauce
£7.50
BBQ Chicken Medium
Tandoori chicken, sweetcorn, onions & BBQ sauce
£10.50
BBQ Chicken Large
Tandoori chicken, sweetcorn, onions & BBQ sauce
£15.00
Pepperoni Pizza Small
Pepperoni & cheese
£7.50
Pepperoni Pizza Medium
Pepperoni & cheese
£10.50
Pepperoni Pizza Large
Pepperoni & cheese
£15.00
Mexican Hot Top Small
Spicy beef, spicy chicken, jalapenos & very hot chilli
£7.50
Mexican Hot Top Medium
Spicy beef, spicy chicken, jalapenos & very hot chilli
£10.50
Mexican Hot Top Large
Spicy beef, spicy chicken, jalapenos & very hot chilli
£15.00
Meat Feast Small
Doner meat, chicken, pepperoni & ham
£7.50
Meat Feast Medium
Doner meat, chicken, pepperoni & ham
£10.50
Meat Feast Large
Doner meat, chicken, pepperoni & ham
£15.00
Doner Pizza Small
Chicken & lamb donner
£7.50
Doner Pizza Medium
Chicken & lamb donner
£10.50
Doner Pizza Large
Chicken & lamb donner
£15.00
9" Garlic Bread Pizza with Cheese
£7.70
Doner Kebab Standard
Slices of minced lamb specially marinated & cooked in an upright spit
£5.50
Doner Kebab Large
Slices of minced lamb specially marinated & cooked in an upright spit
£7.00
Chicken Doner Kebab Standard
Slices of minced lamb specially marinated & cooked in an upgright spit
£5.50
Chicken Doner Kebab Large
Slices of minced lamb specially marinated & cooked in an upgright spit
£7.00
Lamb Shish Kebab Standard
Tender cubes of lamb specially marinated & grilled on skewers
£6.50
Lamb Shish Kebab Large
Tender cubes of lamb specially marinated & grilled on skewers
£8.00
Chicken Shish Kebab Standard
Tender cubes of chicken breast specially marinated & grilled on skewers
£6.50
Chicken Shish Kebab Large
Tender cubes of chicken breast specially marinated & grilled on skewers
£8.00
Chicken & Doner Kebab - Standard
£6.00
Chicken & Lamb Doner Kebab - Large
£7.50
House Special Kebab
Doner kebab, chicken doner, lamb shish & chicken shish
£14.00
Doner Meal
Served with chips, salad & sauce
£7.00
Chicken Doner Meal
Served with chips, salad & sauce
£7.00
Mix Doner Meal
Mixed doner meat served with chips, salad and sauce
£7.50
Donner with Chicken Shish Kebab
£7.00
Donner with Lamb Shish Kebab
£7.00
Lamb Doner Meat Wrap Standard Size
£6.00
Lamb Doner Meat Wrap Large Size
£8.00
Chicken Doner Wrap Standard Size
£6.00
Chicken Doner Wrap Large Size
£8.00
Mixed Doner Wrap Standard
£7.00
Chicken & Lamb Shish Wrap
£7.50
Quarter Pounder Burger with Cheese Single
£3.50
Quarter Pounder Burger with Cheese With Chips
£5.00
Half Pounder Burger with Cheese Single
£4.50
Half Pounder Burger with Cheese With Chips
£5.50
Vegetarian Burger With Chips
£5.00
Chicken Burger With Chips
£5.00
Chicken Fillet Burger Single
£4.00
Chicken Fillet Burger With Chips
£5.50
Combo Burger Single
Beef & chicken
£5.00
Combo Burger With Chips
Beef & chicken
£6.50
1 Piece of Chicken & Chips
£3.50
2 Pieces of Chicken & Chips
£4.60
3 Pieces of Chicken & Chips
£5.70
4 Pieces of Chicken & Chips
£6.80
8 Pieces of Chicken Nuggets & Chips
£5.00
8 Peaces of 100% Chunk Chicken
£5.00
Jacket Potato with Butter
£4.50
Jacket Potato with Cheese
£4.50
Jacket Potato with Coleslaw
£4.50
Hot & Spicy Chicken Wings (8)
£5.00
Mixed Salad with Dip - Large
£2.50
Garlic Bread with Cheese Small
£3.00
Garlic Bread with Cheese Large
£4.00
Sauce 4oz Homemade Garlic Mayo
£1.00
Sauce 4oz Pot of Yoghurt Mint Sauce
£1.00
Sauce 4oz Pot of Chipotle Sauce
£1.20
Tennesse Toffee Cream Pie
£2.85
Half Pounder Royal Burger Regular
Cheese & spicy onion rings inside the burger
£6.00
Half Pounder Royal Burger With Chips
Cheese & spicy onion rings inside the burger
£7.50
Quarter Pounder Royal Burger Regular
Cheese & spicy onion rings inside the burger
£5.00
Quarter Pounder Royal Burger With Chips
Cheese & spicy onion rings inside the burger
£6.50
Chicken Royal Burger Regular
Cheesy & spicy onions rings inside the burger
£6.00
Chicken Royal Burger With Chips
Cheesy & spicy onions rings inside the burger
£7.50
Super Burger Regular
Beef burger with donner meat
£5.50
Super Burger With Chips
Beef burger with donner meat
£7.00
Double Super Burger Regular
2 Beef burgers with donner meat
£6.50
Double Super Burger With Chips
2 Beef burgers with donner meat
£8.00
Contact Us
Find Us
49 Notte Street, Plymouth, PL12AG
We deliver to
PL1, PL2, PL3, PL4, PL5, PL6, PL7, PL9