About Us
Plymouth Express is a Pizza takeaway in Plymouth. Why don't you try our Donner Kebab Meal or Dockyard Special?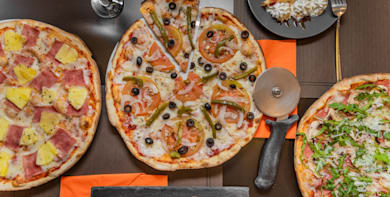 Reviews
248 reviews
Stacy
"Delivery driver was awesome too"
02/03/2021
Carol
"Good value and size food"
27/02/2021
sean
"As always brilliant but this has got to be the fastest delivery of all time. 21mins from order to door amazing . The pizzas as always the best in Plymouth . Thanks guys"
26/02/2021
Rebecca
"Food was lovely and fresh. Prices were very good. Arrived in good time. Will definitely be ordering again."
25/02/2021
Menu
Quarter Pounder Burger with Cheese Single
£3.50
Quarter Pounder Burger with Cheese With Chips
£5.00
Half Pounder Burger with Cheese Single
£4.50
Half Pounder Burger with Cheese With Chips
£5.50
Vegetarian Burger With Chips
£5.00
Chicken Burger With Chips
£5.00
Chicken Fillet Burger Single
£4.00
Chicken Fillet Burger With Chips
£5.50
Combo Burger Single
Beef & chicken
£5.00
Combo Burger With Chips
Beef & chicken
£6.50
9" Garlic Bread Pizza with Cheese
£7.70
New York Special Large
Ham, mushrooms, pineapple, onions & peppers
£15.00
New York Special Medium
Ham, mushrooms, pineapple, onions & peppers
£10.50
New York Special Small
Ham, mushrooms, pineapple, onions & peppers
£7.50
Margherita Large
Tomato sauce topped with cheese
£11.00
Margherita Medium
Tomato sauce topped with cheese
£8.00
Margherita Small
Tomato sauce topped with cheese
£6.50
Meat Feast Large
Doner meat, chicken, pepperoni & ham
£15.00
Meat Feast Medium
Doner meat, chicken, pepperoni & ham
£10.50
Meat Feast Small
Doner meat, chicken, pepperoni & ham
£7.50
Mexican Hot Top Large
Spicy beef, spicy chicken, jalapenos & very hot chilli
£15.00
Mexican Hot Top Medium
Spicy beef, spicy chicken, jalapenos & very hot chilli
£10.50
Mexican Hot Top Small
Spicy beef, spicy chicken, jalapenos & very hot chilli
£7.50
Hawaiian Large
Ham & pineapple
£15.00
Hawaiian Medium
Ham & pineapple
£10.50
Hawaiian Small
Ham & pineapple
£7.50
Pepperoni Pizza Large
Pepperoni & cheese
£15.00
Pepperoni Pizza Medium
Pepperoni & cheese
£10.50
Pepperoni Pizza Small
Pepperoni & cheese
£7.50
Vegetarian Large
Tomato, onion, mushrooms, sweetcorn & peppers
£15.00
Vegetarian Medium
Tomato, onion, mushrooms, sweetcorn & peppers
£10.50
Vegetarian Small
Tomato, onion, mushrooms, sweetcorn & peppers
£7.50
BBQ Chicken Large
Tandoori chicken, sweetcorn, onions & BBQ sauce
£15.00
BBQ Chicken Medium
Tandoori chicken, sweetcorn, onions & BBQ sauce
£10.50
BBQ Chicken Small
Tandoori chicken, sweetcorn, onions & BBQ sauce
£7.50
Express Road Runner Large
Pepperoni, salami & sausage
£15.00
Express Road Runner Medium
Pepperoni, salami & sausage
£10.50
Express Road Runner Small
Pepperoni, salami & sausage
£7.50
Dockyard Special Large
Spicy beef, pepperoni, mushrooms & onions
£15.00
Dockyard Special Medium
Spicy beef, pepperoni, mushrooms & onions
£10.50
Dockyard Special Small
Spicy beef, pepperoni, mushrooms & onions
£7.50
Doner Pizza Large
Chicken & lamb donner
£15.00
Doner Pizza Medium
Chicken & lamb donner
£10.50
Doner Pizza Small
Chicken & lamb donner
£7.50
Doner Kebab Standard
Slices of minced lamb specially marinated & cooked in an upright spit
£5.20
Doner Kebab Large
Slices of minced lamb specially marinated & cooked in an upright spit
£6.80
Chicken Doner Kebab Standard
Slices of minced lamb specially marinated & cooked in an upgright spit
£5.50
Chicken Doner Kebab Large
Slices of minced lamb specially marinated & cooked in an upgright spit
£7.00
Lamb Shish Kebab Standard
Tender cubes of lamb specially marinated & grilled on skewers
£6.50
Lamb Shish Kebab Large
Tender cubes of lamb specially marinated & grilled on skewers
£8.00
Chicken Shish Kebab Standard
Tender cubes of chicken breast specially marinated & grilled on skewers
£6.50
Chicken Shish Kebab Large
Tender cubes of chicken breast specially marinated & grilled on skewers
£8.00
Chicken & Doner Kebab - Standard
£6.00
Chicken & Lamb Doner Kebab - Large
£7.50
House Special Kebab
Doner kebab, chicken doner, lamb shish & chicken shish
£14.00
Doner Meal
Served with chips, salad & sauce
£7.00
Chicken Doner Meal
Served with chips, salad & sauce
£7.00
Mix Doner Meal
Mixed doner meat served with chips, salad and sauce
£7.50
Quarter Pounder Burger with Cheese
Quarter Pounder Burger with Cheese
Quarter Pounder Burger
Quarter Pounder Burger
Half Pounder Burger with Cheese
Half Pounder Burger with Cheese
Chicken Fillet Burger
Chicken Fillet Burger
Quarter Pounder Cheeseburger
Half Pounder Cheeseburger
Donner with Chicken Shish Kebab
£7.00
Donner with Lamb Shish Kebab
£7.00
Tennesse Toffee Cream Pie
£2.85
8 Pieces of Chicken Nuggets & Chips
£5.00
1 Piece of Chicken & Chips
£3.50
2 Pieces of Chicken & Chips
£4.60
3 Pieces of Chicken & Chips
£5.70
4 Pieces of Chicken & Chips
£6.80
8 Peaces of 100% Chunk Chicken
£5.00
Hot & Spicy Chicken Wings (8)
£5.00
Jacket Potato with Butter
£4.50
Jacket Potato with Cheese
£4.50
Jacket Potato with Coleslaw
£4.50
Mixed Salad with Dip - Large
£2.50
Garlic Bread with Cheese Small
£3.00
Garlic Bread with Cheese Large
£4.00
Half Pounder Royal Burger Regular
Cheese & spicy onion rings inside the burger
£6.00
Half Pounder Royal Burger With Chips
Cheese & spicy onion rings inside the burger
£7.50
Quarter Pounder Royal Burger Regular
Cheese & spicy onion rings inside the burger
£5.00
Quarter Pounder Royal Burger With Chips
Cheese & spicy onion rings inside the burger
£6.50
Chicken Royal Burger Regular
Cheesy & spicy onions rings inside the burger
£6.00
Chicken Royal Burger With Chips
Cheesy & spicy onions rings inside the burger
£7.50
Super Burger Regular
Beef burger with donner meat
£5.50
Super Burger With Chips
Beef burger with donner meat
£7.00
Double Super Burger Regular
2 Beef burgers with donner meat
£6.50
Double Super Burger With Chips
2 Beef burgers with donner meat
£8.00
Red Bull Red Bull (250ml)
£1.80
Red Bull Sugar Free Red Bull (250ml)
£1.80
Biggest Deal Ever
Any 2 x 12" medium pizzas
Any 1 x 09" small pizza
Large spicy potatoes
1.5L Bottle of soft drink
£26.00
Combo 1
Quarter pounder cheeseburger with chips & a can of soft drink
£5.50
Combo 2
Half pounder cheeseburger with chips & a can of soft drink
£6.00
Combo 3
Chicken fillet burger with chips & a can of soft drink
£6.00
Combo 4
3 Pieces of chicken with chips & a can of soft drink
£6.70
Pizza Deal 1
12" Medium Margherita
Garlic bread (4 Pieces)
1 x Chicken burger
1 x Half pounder cheeseburger
2 x Chips
1.5L Bottle of soft drink
£20.00
Pizza Deal 2
Any 12" medium pizza
2 x Doner or chicken doner kebab
1 x Chicken burger
1 x Quarter pounder cheeseburger
2 x Chips
1 x Spicy potatoes
1.5L Bottle of soft drink
£29.00
Pizza Offer
Any 2 x 12" medium pizzas
Half pounder cheeseburger
Large spicy potatoes
1.5L Bottle of soft drink
£26.00
Sauce 4oz Homemade Garlic Mayo
£1.00
Sauce 4oz Pot of Yoghurt Mint Sauce
£1.00
Sauce 4oz Pot of Chipotle Sauce
£1.20
Chicken & Lamb Shish Wrap
£7.50
Contact Us
Find Us
49 Notte Street, Plymouth, PL12AG
We deliver to
PL1, PL2, PL3, PL4, PL5, PL6, PL7, PL9